İnternational
The project is supported by a grant from the European Innovation Council, which Sensoneo received in the summer of 2020 for the large-scale deployment of its solution to demonstrate its environmental and economic benefits. The project includes several stages that will be implemented continuosly until April 2022. The city expects savings on waste collection related mileage and emissions as well as the possibility for early intervention in the case of overfilled containers. "For the citizens of Bratislava, this would mean cleaner public spaces and more efficient waste collection services, " explained Katarína Rajčanová, city spokeswoman.
The project includes:
Digitalization of 85000 containers Installation of 1753 Sensoneo sensors to monitor all containers for glass waste and underground bins accross the city
Deployment of 92 Sensoneo WatchDog devices on all waste collection vehicles to automatically digitalize the waste collection process and automatically verify pick-ups
Dynamic waste collection powered by Sensoneo's Route Optimization
Testing of Sensoneo's prototypes facilitating the introduction of "Pay as you sort" models and recognizing fill-levels of containers during the pick-up
Digitalization of waste infrastructure is in line with the city's Strategy for Municipal Waste Management with the aim of transitioning to a circular economy for the years 2021 – 2026. "Our goal is to have exact data on the volume of waste that residents produce. These data would be then be reflected in statistics at the taxpayer level. Each collection container or bag in the city will be tagged and its dumping will be recorded using the waste collection technology," said Ivana Maleš, co-author of the city document.
Containers for glass and semi-underground containers present the highest potential for savings – in terms of fuel and mileage as well as in terms of time and emissions. Glass waste is particularly troublesome due to its irregular filling cycle, and Sensoneo's real-time sensors offer invaluable time savings by identifying when collection is required, thereby eliminating unnecessary pickups, and ensuring that bins will not sit overfilled. To empty the underground bins, there is a need for a vehicle with a hydraulic arm. This means extra costs and, in many cases, an unnecessary burden for traffic congestion as the emptying takes about 6-7 minutes.
This knowledge motivated the city to select 1753 bins to be monitored with Sensoneo sensors. Besides the actual waste production monitoring, the data will be used for the automated optimization of waste collection routes targeting the shortest mileage possible and maximized capacity utilization of the vehicles on return to the depot. The routes will be available to drivers in Sensoneo's Driver Navigation app, which is designed for specific needs of waste collection vehicles. This approach will also facilitate easy onboarding of new drivers.
The lack of efficiency and transparency are some of the biggest challenges in waste management. The city of Bratislava will deploy Sensoneo's service-monitoring tool: WatchDog on all vehicles to test the functionality of automatic identification of bins and bags authorized for waste collection, automatic verification of pick-up of each bin and a precise recording of all the routes made. The city's waste management company OLO will also use Sensoneo's Fleet Management to manage daily operations related to vehicles and routes. Operators will be given a detailed and complete overview of all the operations made in the field and in the depot including the ability to receive real-time updates on the ongoing routes and locations of the trucks on the map. The tool also includes the Garage Dashboard, Incident reports, and detailed statistics including driving patterns.
Aimplas is now implementing the MICROPLASTICS_2020 Project, funded by the Valencian Institute of Business Competitiveness (IVACE). The aim of the project is to develop a standardized methodology to detect, identify and quantify microplastics (plastic fragments of 5 mm or less in size) to monitor their presence in the different stages of industrial processes.
Because no standardized methodologies are currently available to analyse the presence of these materials, Aimplas is developing an innovative method to provide support to companies in the Spanish Autonomous Community of Valencia so they can improve their environmental safety and anticipate future regulations on the use and production of microplastics in products and the generation of industrial effluents. The level of analytical technology and knowledge required to perform such analysis is so high that companies must seek the help of experts at highly specialized centres. Thanks to this project, companies will have a greater capacity to take action on their materials and processes to reduce the possible presence and production of microplastics, and they will be better prepared to anticipate future legislation.
Restrictions on the presence, use and production of microplastics in industrial processes should involve defining protocols for analysing microplastics and standardizing these protocols. Companies should be very careful about selecting suitable starting materials (by taking into account impurities, by-products and contaminants), and about all processing stages, from the starting material to the final article. In each stage, they must make decisions based on producing, introducing or eliminating microplastics. A standardized study on the presence and potential production of microplastics in the different stages of each industrial process will help prevent microplastics from forming and eliminate them when possible.
The MICROPLASTICS_2020 Project is developing an innovative methodology that requires a high level of R&D, given that no standardized methods are currently available to detect, identify and quantify microplastics in different media. For Aimplas, this project is the starting point of a new line of research in which companies in the Autonomous Community of Valencia will be able to participate by contributing case studies and information on their production processes. The following companies are collaborating on the project: Agua Mineral San Benedetto, Global Omnium and Acteco Products y servicios.
This cooperation with companies will enable the technology centre to give continuity to this line of research and consolidate it through the free transfer of results to the companies collaborating on technical aspects and also to the rest of the industry in the form of public reports and deliverables. This will ultimately benefit Autonomous Community of Valencia consumers, as well as the environment.
This project is funded by the Valencia Regional Government's Ministry for Sustainable Economy, Production Sectors, Trade and Employment through grants from IVACE, and is co-funded by the European Union (ERDF) through the Spanish Autonomous Community of Valencia ERDF Operational Programme (2014-2020). This funding is targeted at technology centres in the Valencia Region to develop non-economic R&D projects in collaboration with companies in 2020.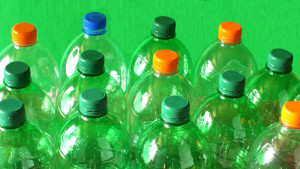 The new recycling facility will convert PET flake into food-grade recycled PET (rPET) pellets suitable for direct use in new preforms, bottles and containers.
The new facility will be co-located with the current preform and container manufacturing plant facilitating additional carbon savings through the elimination of resin transport. The new recycling plant will produce 20,000 tonnes of food-grade pellet per year and will commence production in the summer of 2022. The project will create approximately 14 new jobs and include additional manufacturing and warehouse space.
This will be Plastipak's fifth global location producing recycled PET (rPET). With three long-established rPET facilities in Europe (France, Luxembourg and the United Kingdom), Plastipak already produces well over 130,000 tonnes of recycled PET in Europe. Plastipak also operates a HDPE and PET recycling plant in the US.
FEAD welcomes the strategy which has been revised to reflect the post-covid era. We now have great expectations this Industrial Strategy will be working towards facilitating and strengthening a fair and open EU single market.
The Industrial Strategy reiterates that enhancing circular economy and increasing the collection and recycling of raw materials, as well as strengthening the market for secondary raw materials are crucial instruments in boosting the green transition and accomplishing the European Green Deal targets and objectives.
We consider it a positive sign that the EC identifies the strategic dependencies in the areas of raw materials, batteries, and energy, as we share the same concerns, and we also bring solutions. The EU Industrial Strategy should encompass a holistic approach towards closing the loop in energy, by recognising the beneficial role of the recovery of energy from waste, which is partially a renewable source.
The EU industrial Strategy also needs a smoother functioning of waste shipments rules, as intra-EU waste movements are essential to the whole waste management chain which is largely cross-border.
FEAD supports the need to accelerate both the green and the digital transitions. Under the fit-for-55 package, the EU ETS should prioritise large emissions caused by the material and energy content of products/energy processes. It should not include, however, Waste-to- Energy activities which are integral to the circular economy, and account for only 1,5% of the total EU CO2 emissions, while having the capacity to avoid yearly 120 Mt in 2030 with energy generated from waste.
Ambitious policies including mandatory recycled contents in packaging and in a series of other products are crucial to trigger more investments along the recycling chain, transforming the manufacturing sector into a circular model. The SUP Directive and the recently proposed Regulation on Batteries are very positive examples of such decisive evolutions by the EU legislator, and to which FEAD is a proponent.

These tools are all indispensable when dealing with challenging sectors in the whole value chain and will help achieve the ambitious targets for a green transition.
The aluminum recycling industry is constantly evolving and adapting to an increasing demand for this highly versatile material which results, among others, from a rise in electronic vehicle production, the trend towards more lightweight cars and the outstanding features this non-ferrous metal brings to numerous industries. A rise in demand offers a valuable proposition for the industry as it strongly encourages a more sustainable production which, in turn, supports the industry on its progress towards greener aluminum production.
Tomra's webinar will further explore the future of the global aluminum recycling industry and detail how recycling can build the bridge between market pull and the industry push for greener aluminum.
In the 45 minutes live session, attendees can look forward to learning more about the aluminum recycling industry in general and recent innovations in sensor-based sorting technology, which will be highlighted by Tomra's Segment Managers Metal Recycling, Tom Jansen and Terence Keyworth. In addition, Patrik Ragnarsson, Senior Manager Automotive and Transport at European Aluminium, will address the general trends in the automotive sector, especially with regards to the increase in electronic vehicle production, and will also detail the role aluminium plays within the sector. First-hand experiences in the scrap recycling landscape and the importance of having advanced technologies in place will be highlighted by Edward George, Commercial Manager at Alutrade Ltd.
A closing and interactive Q&A session at the end of the webinar which will provide an opportunity to explore specific topics in more detail.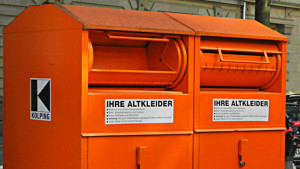 fter the opening speech of Mariska Zandvliet, President of EuRIC Textiles, Maria Rincon Live, Policy Officer at the European Commission, DG Environment, Circular Economy and Green Growth, Sustainable Production, Products and Consumption highlighted some major takeaways to make textiles more circular. She mentioned that strong focus needs to be placed on eco-design, investments as well as a collaboration throughout the textile value chain and also the need to provide alternatives to tackle the current linear textile model. Delara BURKHARDT, Member of the European Parliament joined the keynote session to stress the necessity for a holistic circular economy approach and the fact that textiles are "our second skin" and need particular attention.
Moving to the panel discussion, Jonas Der-Hansen, Public Affairs Director at Global Fashion Agenda, called for a systematic change and a new and proper legal framework for textiles while Valeria Botta, Program Manager at ECOS, focused on the fact that it is essential to empower consumers to move to a circular economy for textiles and to prolonging the useful life of textile products.
Emmanuel Katrakis, Secretary General, wrapped up the debate by highlighting EuRIC's vision of an ambitious EU Textiles Strategy which should include proper EPR schemes, recycled content targets as well as a close collaboration across the textiles value chain.
You couldn't join? Don't worry, the recording of the webinar will be published in the framework of eREC on 7th May from 09:15 to 11:00 AM CEST. The video will be also uploaded to eREC's YouTube channel in the coming days.
As part of these new targets, the Label and Graphic Materials (LGM) business commits to 100% of its core film and paper product categories globally containing recycled or renewable content. And all of its regions will also have labels that enable the circularity of plastics. This will ensure that Avery Dennison is well-positioned to satisfy current or future recycling, composting or reuse requirements for single-use consumer plastic packaging. The company is also expanding its portfolio to include more intelligent labeling to advance the communication of data, reduce costs and waste, and create better recycling processes.
The specific 2030 targets fall under three broad sustainability goals:
Deliver innovations that advance the circular economy;
Reduce environmental impact in operations and supply chain; and
Make a positive social impact by improving the livelihoods of people and communities.
In addition, the company's 2030 ambitions include procuring paper exclusively from responsibly-managed forests to help ensure a deforestation-free future. LGM will continue to invest in industry collaborations like CELAB to promote and deliver matrix and liner recycling globally, and the company will engage with the majority of its direct suppliers on their environmental and social practices affecting water, human rights, fair business, forestry, and similar important interests.
"Meeting our 2030 ambitions will be the greatest test yet of our capacity to innovate, as well as an invaluable opportunity to position our business for lasting success," said Renae Kezar, senior director, global sustainability, Label and Graphic Materials, Avery Dennison. "We are proud to have exceeded our 2025 goal for reducing absolute GHG emissions, and we are making steady progress on our other sustainability commitments."
The company has also pledged to reduce emissions by 70% against its 2015 baseline, and to work with its supply chain to reduce Scope 3 emissions by 30% against its 2018 baseline. The company's overall ambition is to produce net-zero emissions by 2050 and enable a future of regeneration. The 2030 goals also include targets for gender diversity, employee engagement and inclusion, safety, and more.
"With our 2030 goals, we're expanding our focus to make an even greater difference," said Kezar. "Since establishing our original sustainability goals, we've gained a greater understanding of where our business overlaps with the world's most urgent environmental challenges — and importantly, the areas where we can, and will, lead."
Paper cups are made from virgin bleached pulp. It is a valuable material for recyclers. The plastic insert – polyethylene – can also be removed and recycled, for example, into tiles.
Why, then, are paper cups hardly recycled all over the world? The difficulty lies in separate collection and accumulation of the required volume of cups for processing. Since organic residues are in the cups, they cannot be stored for a long time while waiting for the necessary volume because of the fungus spread. So used paper cups are no longer suitable for processing and can harm expensive equipment.
Despite all these difficulties, there is a plant in Russia that has tackled recycling paper cups. It is the Solnechnogorsk Experimental Mechanical Plant – SOEMZ. The founder of the plant is Denis Kondratyev, professor of the Sustainable Development Faculty at Moscow Witte University. Denis is also a member of the Supervisory Board of Waste Paper Processors League Association, which unites 73 recycling plants and waste paper handling operators in Russia. Denis is currently implementing a decentralized collection of waste paper for his plant.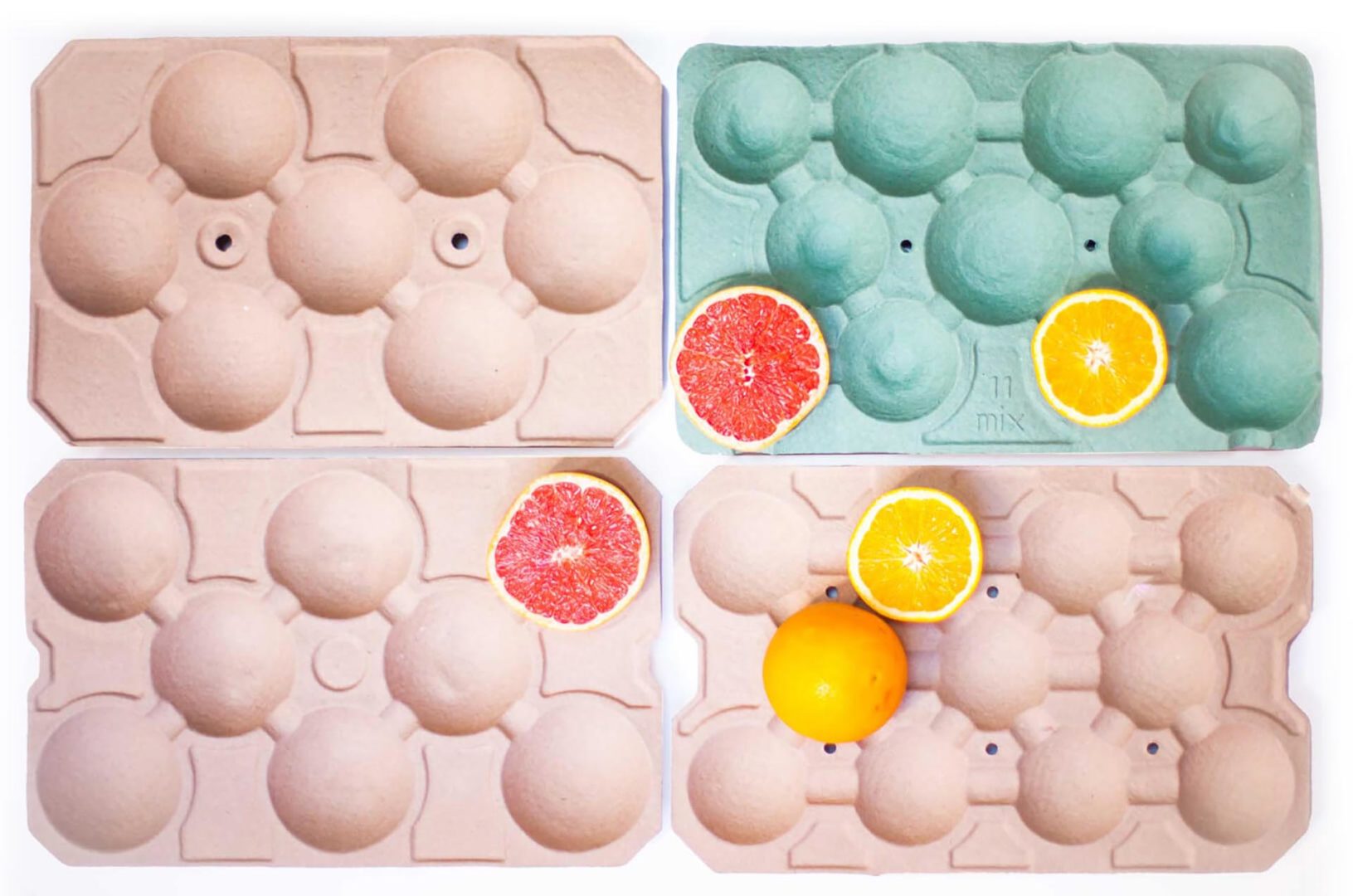 SOEMZ manufactures products from molded fibers: fruit trays, paper cup holders, transport packaging for vegetables, shampoos, deodorants, etc. – more than 140 types of products. The plant products regularly receive international awards: Red Dot Award, WorldStar Packaging Awards, PART Award. SOEMZ supplies a wide range of goods to European countries. For example, lodgements for mugs, salad bowls, and bra holders are supplied to Germany. All of these products include paper cups as recycled material.
Molded fiber has always been made from newspapers. Still, recently the cost of newspapers has increased dramatically, and its quantity has lowered due to a decrease in demand for printed products. The system of separate waste collection is poorly developed in Russia. Because of that, there is no collection of newspapers from the household sector. For some time, the plant used an OCC grade of waste paper. OCC collection rate is high in Russia (around 90 %), but the price is relatively high – about 25,000 rubles (275 Euro) per ton. The use of such materials for the production of molded fiber is not economically feasible.
SOEMZ has been cooperating with IKEA for several years. ÄGGKOPP "Paper Wave" packaging for the transport of fragile goods won an international award at the 2019 Red Dot Award. SOEMZ recycles unpopular types of waste paper from IKEA, for example, a transport corner and coreboard. IKEA also collects paper cups in its stores and delivers them to SOEMZ with other types of waste paper. SOEMZ installed a high concentration pulper (16%). It easily separates fiber.
For two years, SOEMZ processed about 500,000 cups mixing used paper cups with other grades of waste paper, like most of the recycling facilities in the world. But SOEMZ wants more: the company plans to organize a decentralized procurement of used paper cups according to the blockchain principle. At the same time, the plant intends to switch entirely to the processing of cups and abandon the purchase of another type of waste paper. It is easier for a plant to work with a single kind of material since constant equipment adjustment is not required.
In Russia, the company "Parmatech" produces equipment engaged in dry fiber separation – an aerodynamic dispergator. The paper cups go into the dispergator, and the output is dry paper fiber and plastic film, which is also recyclable. In the process of dispersion, a sharp pressure drop occurs. Acidophilic and other bacteria do not survive in such conditions, thus eliminating the possibility of the appearance and spreading of molds. As a result, after dispersion, the fiber can be stored significantly longer without the risk of molds development, which is impossible with long-term storage of used paper cups. Such materials can be stored and transported. It has the same idea as powdered milk, powdered eggs or freeze-dried products. Also, the dispegator copes with the task of fiber separation better than the pulper because no water is used or contaminated in the process.
SOEMZ will also implement the zero waste principle in practice. The plastic that remains after fiberizing will become a homogeneous material – polyethylene – without inclusions of another type of plastic, guaranteeing its demand. SOEMZ will process fiber into paper products, and plastic recyclers will tackle plastic. In addition, the material from the cup provides an apparent economic plus. This material is not subject to price risks; there is no overstated demand for it.
It is not profitable to centrally accumulate and store paper cups; decentralizing the collection of raw materials will solve the problem. SOEMZ plans the installation of dispergators at waste paper collectors facilities that serve shopping centers. It is the meaning of a decentralized collection system: different suppliers will install dispergators on their facilities. The equipment is mobile, dispergator has an equal size to the sea container. Each dispergator can produce approximately 3 tons of fiber per day. As a result, SOEMZ will purchase the amount of fiber required for production from paper cups – 20 tons per day.
The plant is currently negotiating the installation of dispegators with two waste paper collectors located in Moscow and Nizhny Novgorod.
And it is becoming clear that digitalisation can be implemented more cheaply and more straightforwardly than thought.
The majority of waste management companies are aware that they have to be found on the internet. According to an article by BVSE, the majority already have a presence in social media such as Xing, LinkedIn and relevant associations. Just over half of those surveyed advertise online and more than 40 percent either have a shop system or will set one up in the future.
For 70 percent of the waste management companies of the future, on the other hand, service portals are an important service extension. Electronic invoice processing or CRM software can already be implemented cost-effectively by small companies, while comprehensive ERP systems unfold their advantages in larger organisations.
According to most waste management experts, digital container registration, live container tracking and fill level measurement will play a major role. Mobile level sensors and a routing platform like BrighterBins offer full control over the bins, their contents and collection.
So, what prevents most waste management companies from carrying out both small and large digitalisation projects?
A lack of interfaces between service providers and their own infrastructure, technical standards that can be expanded were the most frequently mentioned answer. In addition, there was the expectation that the investment costs would be too high. A lack of competences in the company (37.5%) and the interruption of daily business deter decision-makers and users alike from even thinking about starting a digitization project.
BrighterBins, for example, has taken on these problems and developed level sensors that can be connected to any API and customer platform and minimises the technical effort. Within ten minutes, the sensor is installed and "ready to use". The platform offers much more than GPS localisation and a user interface tailored to user rights and needs.
Over the past 12 the months, Recycleye has combined its validated AI computer vision technology with Fanuc's experience in automation, to deploy and scale Recycleye Robotics, an AI-powered robotic waste-picking system.
To date, the limited availability of scalable recognition technologies has pushed the waste management industry towards a reliance on manual waste pickers to identify and extract high value materials. However, in recent years, the economic efficiency of manual sorting has been challenged due to increased stringency in international quality standards on the purity of imported recycled waste. As such, the demand for an affordable automated sorting solution to ensure purity standards are met, is rising. Together, FANUC and Recycleye have addressed that demand to deliver intelligent automation to the industry.
Recycleye Robotics performs the physical tasks of identifying, picking and placing material, at a rate of 55 successful picks per minute. The novel solution automates current manual operations and enables facilities to double their total throughput. Fanuc's team of expert automation engineers designed Recycleye Robotics to weigh 75 percent less than any existing robotic waste picker currently in the market. The plug-and-play installation eliminates traditional expensive retrofit costs.
Recycleye Robotics is powered by Recycleye Vision, an AI vision system, which has been deployed across the UK and French markets, exceeding human vision in identifying and classifying all items on waste streams – by material, object and even brand. Recycleye Vision works to constantly train and learn new object detection, enabling for the robotic waste picking system to adapt to changing waste composition without any need for manual upgrades.
The modular robotic picking system has already been deployed at two UK material recovery facilities, on multiple plastic and paper sorting lines, and deployments in France are scheduled for later this year. Having installed over 700,000 robots worldwide in different markets, Fanuc will utilise their expertise to help lead the global rollout of the Recycleye robotic pickers. Recycleye and Fanuc's intelligent robotic system is creating a new wave of intelligent and affordable automation in the waste management industry.