İnternational
The Nordic countries are pioneers when it comes to environmental protection, and that entails a lot of work. A great deal of work when the goal is to pass on to future generations a clean world where natural resources are still available and waste is transformed back into valuable new materials, as is the case for the region's largest waste management company, RGS Nordic, based in Denmark.
The company recovers more than 4.8 million tonnes of waste and soil annually at over 28 sites in Denmark and Sweden, and also operates the largest commercial wastewater treatment plant of the northern region in the coastal town of Stigsnæs. This enormous amount of solid waste is a colourful mix of municipal, industrial and mixed construction waste, bulky waste, green cuttings and waste wood, which must be processed for subsequent recycling or energy recovery. To manage the different materials efficiently and flexibly, the company in the far north relies on solid but versatile shredders from Austria's south since 2015. As many as 10 Lindner Urracos, six of the 95 DK type and four compact Urraco 75D ones, one of which has a purely electric drive, do their job under tough conditions.
If you ask Jan Glerup, Managing Director at RGS Nordic, why they have almost a complete football team of mobile shredders in operation, the answer is clear: 'We looked at several machines from different manufacturers. But there are two things that made us choose the Urracos. Firstly, we process a lot of different materials in large quantities. Everything from green cuttings to mattresses to mixed construction waste, which can be very diverse itself. What we need are machines that can be used flexibly without major retooling. Machines that can handle even tough materials without any issues and deal with occasional non-shreddables without any major damage. That's also incredibly helpful during peak times. When times get tough, we can simply reassign one of the Urracos and be ready for action at the push of a button. Secondly, our facilities need to operate at all times. We expect the machines to be robust, and the cleanly welded, solid twin-shaft system has proven to be just that. But it is at least equally important for us to have easy access to rapid service support and Lindner's after-sales team and our regional contact, Komi Contractor Supply (KCS), have an impressive client-centred approach. We recently commissioned the nineth and tenth Lindner Urraco. I think that says it all.'
The subsequent recycling paths are, however, just as varied as the materials produced. Depending on their composition, the shredded fractions that are reduced in volume are used for subsequent recycling processes, composted or recovered as sources of energy, for example, to supply the Danish metropolis of Copenhagen with heat and electricity.
The new waste processing system will be used to process and separate different types of plastic and is the third plant that the Company has purchased from Kiverco. The new machine will be capable of processing up to 25tph and will enable the separation of various plastic types and grades to a high level of purity.
Established in 1991, Haulaway Ltd is a family-run recycling and waste management company based in East Sussex. The company operates two licensed sites, including a waste transfer station and a recycling distribution facility.
Steve Walton, Manager at Haulaway Ltd. stated:"We chose to work with Kiverco again because they are market leaders and visionaries in the waste industry. Their designs and build quality are excellent, and the support and level of customer service is exemplary. Our previous Kiverco plants have worked very well for us, providing reliable and consistent throughput, high levels of output purity, and helping us greatly reduce the amount of waste sent to landfill. "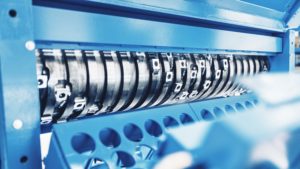 Core elements of the new recycling system will be Andritz ADuro shredders, which will shred used textiles in only one shredding step. With unique capabilities, the ADuro shredders cut the incoming material uniformly and cleanly while enabling a very high throughput. In the subsequent separation stages, contaminants like buttons and zippers will be removed from the shredded textiles. Renewcell uses this pre-treated material to produce a pure, natural dissolving pulp made from 100% recycled textiles.
In addition, the scope of supply includes additional key pieces of equipment. With the state-of-the-art equipment from Andritz, up to 60,000 tons of used textiles per year can be handled in the new recycling plant.
Renewcell, headquartered in Stockholm, Sweden, was founded in 2012 and is specialized in the recycling of textiles. The recycling technology employed by Renewcell dissolves used cotton and other cellulose fibers and transforms them into a new raw material, the so called Circulose® pulp, which is further used to make biodegradable virgin quality viscose or lyocell textile fibers for the fashion industry.
The integration of a Finder and a Finder with NIR sensor enabled the plant to increase its efficiency by precisely separating metals and plastics for subsequent recovery.
The recycling sector has experienced a great growth in recent years, mainly due to the increase in demand for recyclable material as raw material as well as the requirements at the level of legislation that internationally are promoting processes that allow to achieve a circular economy. For this reason, there is an increasing need to recycle and recover the different components.
As Eduardo Morán, Area Sales Manager Iberia at Tomra, tells us: "There is a growing interest from the industry in sensor-based separation technologies to help maximize profits and meet current and future requirements. The trend is clear and regulations will become more and more demanding. We are therefore confident that Tomra's technology will help to comply with legislation and new regulations at both local and European level," he says.
The Marcovil Group, founded in 1987, and with innovative technology in the field of mechanical engineering, develops, manufactures and installs machines and turnkey solutions that promote the circular economy. Its developments achieve a correct separation of waste and recovery of secondary raw materials. Interecycling specializes in the recycling of electronic and electrical waste. They turned to Tomra with the aim of acquiring technology to achieve greater efficiency in its WEEE recycling line by carrying out a correct automated separation of metals and polymers.
"Tomra, since its foundation in the 70s, is known for its strong technological capacity, which translates into a wide range of machines and industrial solutions of high reliability and precision, subject to a continuous process of improvement and innovation. This is why we chose Tomra Recycling's equipment", says Bruno Silva, Sales Representative of the Marcovil Group. "Both the Finder 2400 and the Finder 1800 with NIR are impressive in terms of production capacity and material recovery, which is practically impossible to obtain using other solutions from the market. In this way, we are able to obtain metals and plastics of exceptional quality. In addition, the equipment has an additional advantage: it avoids having to send large quantities of material to landfill, which, in turn, is a more economically and environmentally friendly appraoch", he continues.
Eduardo Morán adds: "The main advantage of using this equipment is, without a doubt, being able to automatically separate the different components of WEEE, drastically reducing the inefficiency involved in carrying out this separation manually. In addition, it significantly reduces personnel costs and exponentially increases production (t/h), as well as the recovery of metals and recoverable polymers with the economic benefit that this entails".
"Tomra is synonymous with quality and reliability, and has a serious and very professional team. Their after-sales service is also very efficient. We hope that this partnership will be long-lasting and that Tomra will soon be involved in new Marcovil projects," says Bruno Silva.
Specific solutions for specific needs
Interecycling turned to Tomra to get the technology able to process 4t/h of WEEE material. "Today, thanks to Finder and Finder with NIR sensor, we have reached 6 t/h", says Bruno Silva proudly.
They also wanted to recover both the metal fraction and the plastic fraction, with special interest in recovering printed circuit boards and copper cables, due to their high market value. This has been achieved thanks to the advanced sensors featured in Tomra's Finder and Finder with NIR.
The process starts with the Finder, which separates the metals into a metal concentrate and a metal-free plastics fraction. This metal fraction is further processed by the Finder with NIR sensor, which separates the printed circuit boards (electronic boards) and, in a second machine step, is able to generate a wire fraction as well. Due to the combination of different sensors the device identifies visible plastics by polymer type as well as different types of metal fractions (such as boards, wires or stainless steel), thus perfecting the process.
The Finder 2400 achieves high purity fractions regardless of the complexity of the materials or their particle size. Thanks to its patented Tomra SUPPIXX and IOR (Intelligent Object recognition)technologies and its state-of-the-art electromagnetic sensor (EM3), it detects metal objects with maximum precision, separating the metal fraction from the plastic fraction in a process that is effective in terms of throughput, purity and efficiency. "In this case, the equipment is aimed at obtaining a metal concentrate. But, if necessary, the machine can also generate a high quality stainless steel monofraction, because it is able to identify the high electromagnetic signal intensity of this material", explains Eduardo Morán.
The Finder 1800 with NIR 1800 is a Finder (with its EM3 electromagnetic sensor together with SUPPIXX and IOR), to which a NIR (Near Infrared) scanner is added for the identification of visible polymers. The NIR sensor allows to separate plastics from the WEEE stream by the type of polymer. It can also separate the PCBs and cables (composed of metal+polymer) , which requires both sensors (NIR-EM3) for a correct identification.
Thanks to Tomra's local technical service in Portugal, the movement restrictions decreed by the COVID-19 health crisis have not impacted the realization of the project.
"At Tomra we are close to the customer and, even in these difficult times, we have been able to offer an excellent service, start up and optimize the equipment, so that the customer can work with a certain degree of normality in times of pandemic," says Eduardo Morán.
"Although the coronavirus has brought challenges that, due to teleworking, could have reduced productivity, we have never closed the company, always showing a strong commitment to customers, suppliers and partners," says Bruno Silva.
David Nogueira, from Tomra's Technical Service in Portugal, explains how they achieved this: "Although Portugal has had many restrictions, we managed to optimize the installation time of both machines. We started with a review of the plant situation and spent a week assembling the machines. We also carried out tests and adjustments to the two units to maximise purity and make the plastics fraction metal-free.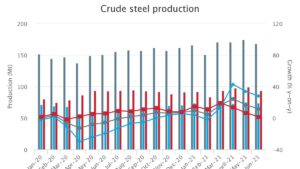 Africa produced 1.5 Mt in June 2021, up 46.9% on June 2020. Asia and Oceania produced 122.5 Mt, up 6.4%. The CIS produced 8.9 Mt, up 9.1%. The EU (27) produced 13.2 Mt, up 34.7%. Europe, Other produced 4.3 Mt, up 21.0% The Middle East produced 3.6 Mt, up 9.1%. North America produced 10.0 Mt, up 45.2%. South America produced 3.9 Mt, up 51.3%.
Top 10 steel-producing countries
China produced 93.9 Mt in June 2021, up 1.5% on June 2020. India produced 9.4 Mt, up 21.4%. Japan produced 8.1 Mt, up 44.4%. The United States produced 7.1 Mt, up 44.4%. Russia is estimated to have produced 6.4 Mt, up 11.4%. South Korea produced 6.0 Mt, up 17.3%. Germany produced 3.4 Mt, up 38.2%. Turkey produced 3.4 Mt, up 17.9%. Brazil produced 3.1 Mt, up 45.2%. Iran is estimated to have produced 2.5 Mt, up 1.9%.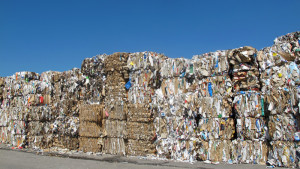 This is one of many key findings in "Paper and board recycling in 2019: Overview of world statistics", the second edition of the BIR Paper Division's revamped analysis of global statistics relating to the recovered fibre industry. The report explores not only production and utilization of recovered fibre but also major international trade flows, as well as key pulp and paper/board market information.
Based on data compiled with the assistance of the European Recycling Industries' Confederation (EuRIC), RISI and CEPI, experts within the BIR Paper Division also make a number of reasoned calculations to quantify the fundamental role of recycled fibre as an environmentally beneficial component of global paper and board production.
"2019 brought an increase in the proportion of the world's paper and board that was made from recovered fibre – from 50.27% in 2018 to 51.15% the following year," points out Jean-Luc Petithuguenin, President of BIR's Paper Division and CEO of France-based Paprec, in his introduction to the new publication.
Asia produced almost half of all the paper and board using recovered fibres, not least because of its leading role as a cardboard producer, while Europe achieved a recovered fibre incorporation rate average of almost 55%.
Despite its increasingly stringent import restrictions, China remained the world's leading recovered fibre importer in 2019. Of particular note, Europe shipped more recovered fibre to India in 2019 than it did to China – a development that "none of us would have anticipated only a handful of years ago", according to Mr Petithuguenin.
The 2019 data also underline significant emerging outlets for recovered fibre, notably Vietnam, as well as the continued strong market presence of other, more established buyers in Asia such as India and Indonesia, Mr Petithuguenin adds.
This is the result of a new study conducted by think tank adelphi on behalf of European Recycling Platform. The study also provides recommendations on how to further strengthen the performance of competitive EPR schemes.
The study finds that producer responsibility organisations operating in a competitive environment show a strong focus on driving innovation and improving the services offered to producers. They also tend to lead to higher customer satisfaction and ensure a cost- efficient implementation of waste management activities such as collection, sorting and recycling. Monopolistic systems, on the other hand, tend to rely on effective but often costly innovation and have a higher risk of market power abuse if transparency is insufficient.
These results hold for waste electrical and electronic equipment, batteries, and packaging.
"Extended producer responsibility has proven over the last years to be a very effective means to tackle one of society's most pressing issues: the growing amount of waste. As the new study suggests, this instrument is particularly powerful and cost-efficient when there is competition between multiple actors. In order to accelerate the transition towards circularity, we need to remove barriers for competition and avoid a concentration of market power at all stages of waste management. Landbell Group has implemented competitive extended producer responsibility throughout Europe for over 20 years and is committed to maintain this role for the journey ahead," says Jan Patrick Schulz, CEO of Landbell Group.
In order to further strengthen the performance of competitive EPR schemes, the study suggests to ensure a level playing field between multiple producer responsibility organisations by establishing coordination bodies independent of private interest. The main tasks of these mandatory bodies would be to coordinate and monitor the allocation of collection responsibilities, to manage joint activities such as awareness campaigns, and to function as an intermediary between PROs and other stakeholders such as local authorities. The study also recommends working towards an EU-wide harmonisation of the criteria for the eco-modulation of EPR fees.
The report "Analysis of Extended Producer Responsibility Schemes" was conducted by adelphi in June 2021 and reviewed by independent scientific reviewers. It assesses the performance of different EPR schemes in Europe using six selected case studies under consideration of nine environmental, economic, and technical key performance indicators, such as collection and recycling rates, costs for producers, or stakeholder satisfaction.
Producers of plastic articles are increasingly using polymers that are compostable. Clariant's business unit Pigments wants to contribute to this growth in compostable plastic articles, with a range of certified "OK compost Industrial" pigments, offering customers new coloring opportunities.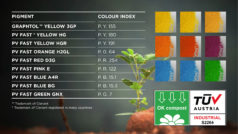 Nine selected products in the ranges PV Fast and Graphtol now feature the label "OK compost Industrial", that meet the requirements of the European Union EN 13432: 2000 standard when not used above the maximum concentration in the final application, representing a significant contribution to sustainability.
"We are proud of this development that is part of our strategy to offer solutions for more sustainable packaging and to strengthen our product portfolio," said Andreas Buder, Technical Marketing Manager Plastics at Clariant. "This certification allows our customers to use bright colors in their biodegradable products, since they are suitable for industrial composting."
The PV Fast and Graphtol range of pigment powders are high performance organic pigments. Both product ranges are used in various applications in the consumer goods sector, such as sensitive food contact packaging, plastics tableware/dishware or toys.
The coloration of biodegradable polymers requires the pigments to meet certain characteristics in order to be considered compostable. For processing through organic recovery facilities, this requires a low heavy metal and fluorine content, and no ecotoxicity towards plants.
In line with the EU Green Deal's objectives, the waste management sector renews its commitment on climate and circular economy objectives, by stepping up its decisive contribution to a climate neutral economy.
FEAD notes that:
the increased effort to reduce emissions for the whole waste management sector will continue to be made under the Effort Sharing Regulation, which is a more appropriate tool for our sector compared to the EU ETS.
as investments to allow the industry to transition (i.e. through the uptake of low-carbon technologies) are needed, project-financing under the increased resources of the Innovation Fund is welcomed, and should be readily available to finance projects all along the waste value chain, including, inter alia, the potential implementation of CCS/CCU for waste-to-energy installations.
biomass derived from waste and related products play an important role in providing sustainable solutions to our economies, by allowing to use the energy potential from biodegradable residues. For this reason, we believe that the taxation of biomass-derived fuels under the proposal for revision of the Energy Taxation Directive should fully reflect their carbon neutrality, to acknowledge they key role they play in transitioning and not penalise their development.
In this regard, FEAD President, Peter Kurth stressed that: "The waste management sector plays a pivotal role in achieving the EU's climate goals. For this reason, the set of proposals under the "fit for 55 package" is a major and ambitious step forward. To ensure the peculiarity of the waste management sector in Europe is fully recognised, the transition in waste management should be critically supported by public funding all along the waste management chain.
FEAD renews its commitment as an active partner in the upcoming discussions in the different legislative processes.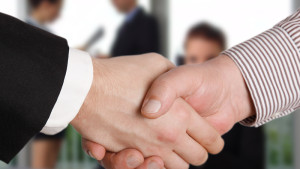 Metso Outotec announced in October 2020 its decision to divest its Recycling business which comprises of the waste recycling and metal recycling business lines based on the company's strategic focus on the aggregates and mining industries. The closing of the transaction is expected to take place during the fourth quarter of 2021.
The parties have decided not to disclose the value of the transaction. The divestment will have a minor positive impact on Metso Outotec's financial results. The Waste Recycling business has been reported as part of discontinued operations in Metso Outotec's financial statements. Metso Outotec continues with the divestment process of its Metals Recycling business line.
"We are very pleased that we have found a new owner for our business, whose strategic thinking and ambitions are so well aligned with ours," says Uffe Hansen, who is heading the Waste Recycling Business. "As a standalone company with a sole focus on waste recycling, we will be more agile and customer centric in order to further exploit growth opportunities."
"The Waste Recycling business, M&J, has a proven track record with a strong growth profile, in an attractive market" says Lasse Heinonen, President and CEO, at Ahlström Capital. "The business is well positioned to help drive sustainable development with its premium brand offering, robust operations and skilled personnel. I believe that Ahlström Capital as an owner will bring further focus on and resources for growth initiatives and support the standalone business to reach its full potential."
The Waste Recycling business will be operating under the M&J brand, and its headquarters will be in Horsens, Denmark. All current employees of the business, approximately 120 persons, will transfer to the new company in connection with the transaction. The net sales of the business in 2020 totalled some 50 MEUR.