İnternational
PROFILINK 82 mm- THE NEW 7-CHAMBER PVC SYSTEM FOR WINDOWS
The new energy-efficient PVC system for windows Profilink 82 mm is a premium product and features significantly more massive and stable profiles. 
The ICBR Honorary award is granted to a person for remarkable commitment to, and outstanding achievements in, the battery recycling industry and its related fields: development of new battery recycling technologies and chemistries, environmental protection, the circular economy and sustainable development.
In 1977 Jacques David began his career in the battery recycling business and quickly became a pioneer in recovering nickel, cobalt and cadmium from Ni-Cd batteries in order to reintroduce them into their metallurgical cycle. Between 1995 and 2005 he became an expert in battery sorting technology and commercialized automatic battery sorting units for portable batteries through his company Eurobatri. He spent the rest of his career managing recycling facilities, building collection networks and furthering the cause of environmentally sound battery recycling.
Jacques David has participated in every one of the 26 ICM battery recycling conferences, sharing his recycling expertise, experience and global network widely within the industry.
ICM is very pleased to grant the ICBR honorary award to Jacques David in recognition of his pioneering spirit, his support for, and endless promotion of, best take-back and recycling practices in the Circular Economy of batteries.
"His lifelong commitment put the worldwide battery recycling industry on the path to a profitable and environmentally sound business model." Jean-Pol Wiaux, Chairman of the ICBR Steering Committee.
Globally only about 20% of waste plastics are recycled. Boosting that figure remains a challenge as recycling plastic cleanly can be expensive and usually produces lower-value products, often making it financially unviable.
The new method from researchers at RMIT University in Melbourne, Australia, can produce high-value products from plastic – carbon nanotubes and clean liquid fuel – while simultaneously upcycling agricultural and organic waste.
The team's two-step process, revealed in the Journal of Environmental Management, converts organic waste into a carbon-rich and high-value form of charcoal, then uses this as a catalyst to upcycle the plastic.
Lead researcher Associate Professor Kalpit Shah said upcycling two massive waste streams through one circular economy approach could deliver significant financial and environmental benefits.
"Our method is clean, cost-effective and readily scaleable," Shah said.
"It's a smart solution for transforming both used plastic and organic waste – whether tonnes of biomass from a farm or food waste and garden clippings from household green bins.
"We hope this technology could be used in future by local councils and municipal governments to help turn this waste into genuine revenue streams."
High-value nanomaterials 
The new plastic upcycling approach offers a sustainable alternative for the production of carbon nanotubes (CNTs).
These hollow, cylindrical structures have exceptional electronic and mechanical properties, with applications across a broad range of sectors including hydrogen storage, composite materials, electronics, fuel cells and biomedical technologies.
Carbon nanotubes are in growing demand, particularly in aerospace and defence, where they can facilitate the design of lightweight parts. The global market for CNTs has been projected to reach $5.8 billion by 2027.
Turning old into new  
The new method starts with converting agricultural or organic waste to biochar – a carbon-rich form of charcoal often used for improving soil health.
The biochar is used to eliminate toxic contaminants – such as Poly-cyclic Aromatic Hydrocarbons, known as PAHs – as the waste plastic is broken down into its components of gas and oil.
The process eliminates those contaminants and convert plastics into high-quality liquid fuel.
At the same time, the carbon in the plastic is converted into carbon nanotubes, which coat the biochar.
These nanotubes can be exfoliated for use by various industries or the nano-enhanced biochar can be used directly for environmental remediation and boosting agricultural soils.
The study is the first to use low-cost and widely available biochar as a catalyst for making contaminant-free fuel and carbon nanomaterials from plastic.
Shah, the Deputy Director (Academic) of the ARC Training Centre for Transformation of Australia's Biosolids Resource at RMIT, said while the study only investigated one type of plastic the approach would be applicable to a range of plastic types.
"We focused on polypropylene as this is widely used in the packaging industry," he said.
"While we need to do further research to test different plastics, as the quality of the fuel produced will vary, the method we've developed is generally suitable for upcycling any polymers – the base ingredients for all plastic."
Hyper-efficient reactor 
The experimental study conducted at lab scale can also be replicated in a new type of hyper-efficient reactor that has been developed and patented by RMIT.
The reactor is based on fluidised bed technology and offers significant improvement in heat and mass transfer, to reduce overall capital and operating costs.
The next steps for the upcycling research will involve detailed computer modelling to optimise the methodology, followed by pilot trials in the reactor.
The team from RMIT's School of Engineering is keen to collaborate with plastic and waste industries to further the research and investigate other potential applications of the upcycling method.
The research was supported through an Australian Research Council DECRA Fellowship.
in that regard, acknowledges the potential of anaerobic digestion from bio-degradable waste which allows the production of bio-methane; stresses, in line with the waste hierarchy, that incineration is only at the second lowest step in the waste hierarchy and recalls its positions on incineration set out in its resolution of 10 February 2021 on the New Circular Economy Action Plan".
We are happy with the outcome of the vote today in the ENVI committee as the report adopted now calls for the alignment of the Landfill Directive with the Circular Economy Acton Plan. It calls on the Commission to focus the future revision of the relevant waste directives on proposing target to cap the generation of residual waste, and also by improving the Landfill Directive to change the current 10% landfill minimisation target from a percentage (%)-based target to a weight (kgs)-based one. Moreover, the committee added an extra by calling for no provision of EU funding for incineration, and recalled its positions on incineration set out in its position on the New Circular Economy Action Plan".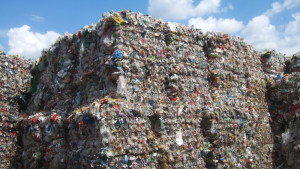 Destined to any company that would like to analyse the sortability of its innovative packaging, in line with design for recycling principles.
Recyclability must be verified at every step of a recycling process and assessing plastic packaging's sortability plays an important role in claiming whether and to what extent a product is recyclable. Following the definition of recyclability, a plastic product can be considered recyclable not only if it is collected, recycled in a commercially available process, used in the manufacture of new products but also when it is sorted into an aggregated stream.
"A holistic approach to recyclability is necessary if we are to make it happen in Europe by 2030", said Vincent Mooij, Director at SUEZ.circpack®. Martine Brandsma, Director of NTCP added: "The 'Sorting Protocol for Plastic Packaging' complements the Recyclability Evaluation Protocols", she continued "Sharing and implementing best practices and standards in the collection and sorting as well as harmonising them across Europe must follow now if we are to move the needle on design for recycling further."
With that purpose in mind, RecyClass developed together with SUEZ.circpack® and NTCP a standardised protocol that evaluates at an industrial scale sorting behaviour of plastic packaging for the following recycling streams: PE flexibles, PP flexibles, PET bottles, PET trays, PP rigids, HDPE rigids, PS rigids. It aims to recognize any design issues that may prevent the detectability of a specific product leading to it ending up in a different stream due to, for example, a large label or a sleeve which are made of a different polymer than the main body of the product. What makes the 'RecyClass Sorting Protocol for Plastic Packaging' document comprehensive, is that it includes all the steps involved in the collection, transportation, and sorting, starting with the packaging waste compaction and ending with the Near-Infrared detection step. This all-inclusive approach is indispensable in evaluating properly the sorting behaviour of packaging.
The Sorting Protocol provides a testing methodology with detailed procedures and sampling methods. To assess the feasibility and operational aspects of the protocol trials were carried out at Suez sorting lines and NTCP Test Centre.
Any company interested in a third-party analysis of the sortability of its innovative packaging to identify possible sorting issues, can contact RecyClass to receive more details about the process.
Furthermore, RecyClass is looking forward to collaborate with other sorting centres from across Europe. Any interested organization can apply to become an accredited sorting facility.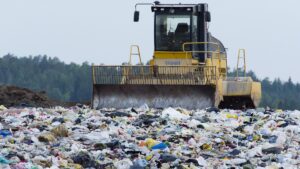 ESWET – the European Suppliers of Waste-to-Energy technology welcomes the European Parliament ENVI Committee's report underlining the need for bold action against methane emissions in the waste sector.
Methane is a powerful greenhouse gas (GHG): 84-times-more-potent than CO2 over a 20-year period. However, unlike CO2 and other GHGs, methane emissions – which represent 11% of the total GHG emissions in the EU – are not regulated properly in the European Union. Today's report makes clear that that this will change.
In the last months, international organisations have raised alarms about the impact of methane on the environment; the recent IPCC report released in July 2021 warned that robust, rapid and sustained reductions in methane emissions are needed to keep global warming in check.
Earlier in 2021, the UNEP Global Methane Assessment identified the waste sector as having the most significant mitigation potential for reducing methane emissions in Europe. This means that addressing landfills is key.
As a last-resort option in the waste hierarchy, landfills are the most polluting way to manage waste, both in terms of GHG emissions and other risk of pollution to air, soil and groundwater. However, landfills remain the primary waste management option in several EU member states. In 2019, more than 20% of municipal solid waste was still landfilled in Europe.
"Today, the parliamentary report demonstrated that the European Parliament is taking the methane issue seriously. – said Patrick Clerens, ESWET's Secretary-General – Acknowledging Waste-to-Energy's role in diverting non-recyclable waste from landfills and reducing methane emissions in the waste sector, while recovering energy and recycling metals and other aggregates, would be a further step in the right direction".
By 2035, no more than 10% of municipal waste should go to landfills in the EU. To achieve this challenging European target, clear support is needed for an integrated waste management system. It involves priority investments in waste prevention, reuse, recycling, but also in energy recovery and material recycling from residual waste, which is essential in the safe treatment of the waste that cannot be recycled as is.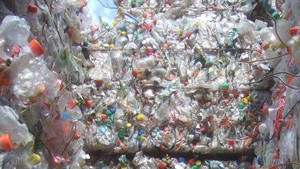 Solvay, a company delivering high performance materials for safe and reliable food packaging, has conducted a proof of concept showing that polyvinylidene chloride (PVDC) has the potential to be recycled. PVDC is used in food, beverage and healthcare multilayer barrier packaging across the world.
The proof of concept involves a process to recycle Ixan® PVDC bioriented film from a post-industrial waste source from food packaging without compromising the performance of the high barrier polymer. It marks an important step towards more sustainable and circular packaging applications, with the potential to launch other initiatives like recycling post-consumer packaging containing PVDC.
"The proof of concept developed by our research team is a solution for PVDC packaging circularity. It shows there is a possibility to reintegrate the recycled polymer into future applications, meaning it can be re-used and re-blended with virgin materials – without losing or degrading its high barrier properties," said Claire Guerrero, Global Marketing Manager for Packaging Segment and Sustainability at Solvay.
"The recycling technology developed by our team enables us to achieve the right quality so that the recycled PVDC meets the strict requirements for indirect food contact, creating the closed loop," adds Yves Vanderveken, Senior Project Portfolio Leader R&I.
Maintaining the high quality of the polymer was essential to Solvay in their quest to find a sustainable solution. Solvay specialty polymer's function of providing a strong barrier against water, oxygen and aromas is why it is used in essential applications to preserve food and reduce waste. A reduction of these properties would defeat its purpose.
Now that this initial breakthrough has been achieved, Solvay is urging fellow companies operating within the plastics industry to work together to turn the recycling of PVDC into reality. There is a particular need to introduce the infrastructure required to collect and segregate packaging containing PVDC.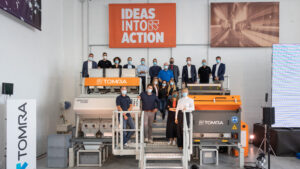 Under the theme of "Testing is believing," Tomra representatives welcomed approximately 100 participants to its exclusive opening event and guided tour of the new flake sorting facility, located next to its office in Parma, Italy. The inspiring afternoon was filled with informative presentations and demos highlighting the company's long-term plastics strategy, the purpose and goal of the new facility, and the numerous advantages it offers customers.
Fabrizio Radice, VP and Head of Global Sales and Marketing at Tomra Recycling, started the exclusive event and gave a detailed explanation of the rationale behind investing in a new Test Center. "We have observed an increasing demand for flake sorting tests and a strong market push for high-quality recycled plastics," Radice told the large crowd. "This requires the purest material fractions across all plastics applications, and the respective technologies and solutions need to be identified, developed, and optimized. This will happen in our new facility, while closely collaborating with our customers and partners."
In fact, customer collaboration is at the core of the new facility. Customers from around the world can now ship their plastic flakes to Parma. Together with their respective sales contact, the materials are processed by Tomra's flake sorting machines. Based on the test analysis and results, Tomra will recommend the most suitable machine, process and sensor configuration for the customer's defined sorting requirements and goals. Customers are provided with an entire business case tailored to their needs before making an investment.
Tomra's customers have been benefitting from this concept that has been offered globally (Germany, United States, Japan, Korea, China) for decades. They can now enjoy extended testing capacities, shorter lead times and greater flexibility when it comes to scheduling tests. In addition, its location proves to be particularly convenient. Situated in Parma, at the hearth of one of Europe's most important industrial and production regions, it can be easily reached via the international airports of Milan, Bologna, Verona and Bergamo.
In the second part of his presentation, Radice, detailed why Tomra is a 'One Stop Shop Solution.' First, TOMRA offers a vast portfolio of sensor-based sorters for various applications with Autosort and its application-specific complementary products at its core. In the plastics segment, Autosort offers technologies for both presorting and flake sorting that work in unison with each other and allow greater operational and financial benefits. Second, going beyond technology, customers and partners profit from Tomra's in-depth application knowledge, invaluable consultancy expertise and ongoing service support. The alignment of machines combined with vast expertise and a one-stop service translates into maximum plant performance.
Following Radice, Alberto Piovesan, Segment Manager Plastics EMEA & Americas, presented Tomra's flake sorting strategy and position in the plastics segment. The audience learned that the company aims to accelerate and shape the development of the sector through its vast application and industry expertise, its consultation, and the most advanced technologies.
The new Test Center will play a crucial role in doing so, as accentuated by Piovesan. "Within only 1.5 years, we established a place where new ideas and innovations are born to best respond to current market trends. More importantly, we are working on solutions that are indispensable for any sorting and recycling plant targeting to successfully upgrade plastics."
Strong emphasis was also put on the new trends in plastics recycling and the implication these trends have on the industry. One of the trends is seen in a discrepancy of input and output qualities. Whereas input materials are expected to come with lower qualities, the required output must feature the highest qualities possible.
Facing and solving these new challenges makes the application of the latest sorting technologies critical. As an industry pioneer, Tomra clearly understands its role in the segment and continuously develops new technologies and optimizes existing ones to best serve both the customers' and market's needs. Piovesan stated that current market trends have resulted in high demand for recycled polyolefins, but recycling rates are still low. Since the company sees increasing potential in polyolefin recycling, it will further devote its attention and expertise to innovate PO-applications. Currently, Tomra is well-positioned in the flake sorting segment and offers two sophisticated flake sorting units.
Ida Semb, Product Manager at Tomra Recycling, offered more detail and presented the key features of Autosort Flake and Innosort Flake, both of which are used for the recovery of plastic flakes (PET, PO, PVC) as small as 2mm and deliver the purity rates demanded by the market, brand owners and converters. Autosort Flake excels in high-end applications where the level of contaminants is rather low, but the quality requirements are particularly high. Innosort Flake is applied for more contaminated streams and is available with a PO-specific sensor to sort polyolefins. With its 2-meter width, Innosort Flake provides accurate sorting result while sorting up to 6 tons per hour.
At the close of the presentations, Ida Semb, Product Manager, and Robert Glaser, Technical Product Expert Flake sorting, joined Alberto Piovesan and moved on to the demo session. All participants were guided into the Test Center, where both machines proved their capabilities in the recovery of polyolefins from highly contaminated material mixes and in color sorting.
After all international participants learned about the company's plastics strategy, positioning, and available solutions for upgrading recycled plastics, Radice returned to conclude the event. He thanked the customers and press titles for being part of the opening celebration and summarized the key take-aways before the group enjoyed networking opportunities. "We are excited about having guided you through this inspiring and informative day. Our key-message is that we are dedicated to shaping the plastics recycling segment and contribute to it with our comprehensive expertise, technologies and, finally, our passion and commitment to enable greater circularity of our resources. With our new Test Center, we are moving ahead and focusing on the development of new solutions for tomorrow's challenges. We are your partner and live up to our promises. We invite you to come, test your material on our machines and believe in what is possible in upgrading plastics."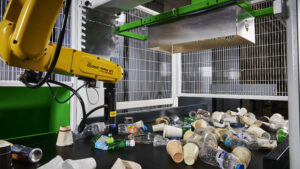 The company's seed round takes its total funding to-date to £4.7M since it was founded in 2019 by CEO Victor Dewulf and CTO Peter Hedley.
 
Already relied upon by waste management leaders Biffa and ReGen in the UK, and three of the five largest waste management companies in Europe, Recycleye will use the funding to scale and enhance the accuracy, scope, and capabilities of its world-leading machine learning and robotics technology. In addition, it will continue to bolster its team, expand into new European markets, and further consolidate within existing territories (including the UK, France, and Italy), and expand its product line beyond vision systems.  
  
Using advanced machine learning to train the world's most powerful recycling robots, Recycleye prevents valuable recyclates from being downcycled, a result of inefficient and ineffective manual labour, with human workers facing dangerous, dull and dirty working conditions, and unreliable machinery. 
The company empowers recycling facilities to increase the purity and subsequent value of their output, increasing the resale value of bales fivefold. By lowering operational expenditure, Recycleye can save facilities up to £2M each year. The company counts Microsoft, NVIDIA, Imperial College London, and FANUC as key technological and strategic partners. 
 
"Waste is not recycled when the cost of recycling exceeds the value of the sorted material. By lowering the cost of recycling with artificial intelligence and robotics, we're breaking this threshold and building a world where our removal chains are fully integrated back into our supply chains", comments CEO Victor Dewulf, who left investment banking at Goldman Sachs to study for a PhD in Machine Vision so he could gain the skills to tackle the recycling problem, and tested the company's AI by throwing waste items on a treadmill. 
 
"It's startling to see just how inefficient and reliant on archaic, manual processes the waste management industry is. To ensure our team understands the pain of human picking, and the need to replace it with technology, we take them on retreats to trash dumps across Europe. We are delighted to be backed by Promus Ventures, a VC firm with a track record of backing and scaling deep tech companies with world-changing ideas like ours." 
 
Microsoft began this project with an objective of creating a plastic resin made from at least 10% recycled ocean plastic as part of its commitment to achieve zero waste by 2030. After hearing the initial vision for the project, Sabic joined the effort to source the recycled material and to formulate a resin that satisfied Microsoft's demanding quality standards. The Microsoft design team collaborated with technologists at Sabic to provide feedback on prototypes made with the new resin. The final product contains 20% recycled ocean plastic by weight in its external casing or "shell."