E-Waste World Conference & Expo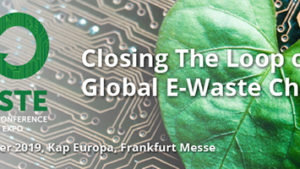 The event will bring together globally-renowned experts from consumer and industrial electronics manufacturers and suppliers, E-Waste recyclers and waste management companies, recycling technology manufacturers, materials recovery experts, sustainable material and chemical suppliers, science and academia, policy-makers, NGOs, research institutions and consultants. Hear over 80 presentations from leading international experts from the electronics industry, E-Waste experts, technology manufacturers, raw materials suppliers, NGOs and leading research organisations.
Close the loop and create a circular economy with new and future recycling technologies, closed-loop materials recovery solutions, industry regulations and strategies to collect and reuse E-Waste. Eliminate toxic and hazardous materials from electronics. Discover Green Electronics technologies, eco-design principles, bio-based chemicals and bio-based materials to replace toxic materials and eliminate single-use materials from your products. Meet New Suppliers in our exhibition zone. Leading international technology manufacturers, chemicals suppliers and materials experts will showcase the latest and next-generation technology to recycle, manage and reduce E-Waste. Exchange knowledge and network with more than 400 sustainability leaders from some of the world's largest international organizations.