Fully circular clothing industry in the Netherlands is possible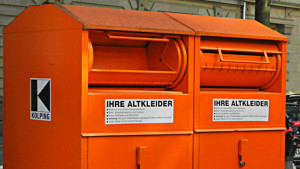 This is according to new research by Circle Economy's Circular Jobs Initiative*, Putting circular textiles to work: The employment potential of circular clothing in the Netherlands. The report outlines three distinct circular scenarios—a shift in consumption patterns, prioritisation of reuse and repair, and upscaling of textile-to-textile recycling—through the lens of employment impacts, finding the second one to be most beneficial to the job market. But to realise such a scenario would require bridging current skills gaps, and re- and upskilling workers—bringing new careers, from (re)manufacturing designers to quality assessors to resale collection managers, to the fore.
The impact of the fashion industry on people and planet is well-known: the clothing industry accounts for around 5% of emissions worldwide, and workers around the globe are subject to unethical working conditions pervasive in the sector. And yet, the hunger for fast fashion is growing: in the Netherlands alone, residents purchase an average of one new garment per week, and around the world the equivalent of one truck load of clothing is burnt or incinerated every second. The need for a circular clothing industry—and especially one that benefits workers—is clear; but what skills do we need to get there?
Working in collaboration with the Goldschmeding Foundation, Circle Economy and HIVA dove into the intricacies of this question, with the aim of supporting national actors in the Dutch clothing value chain from linear to circular and supporting employment opportunities in the process.
Boosting clothing reuse and repair would see the greatest benefits, the report finds: a growing second-hand market and increased demand for repair and maintenance services could increase job creation in the industry by 25%—equal to 24,286 new full-time equivalents (FTEs) in repair and maintenance, 17,319 FTEs shifted from first- to second-hand sales and an additional 4,611 FTEs in second-hand sales. Some of the skills required for this scenario are already present in the Dutch labour market: repair and maintenance, logistics and procurement, manufacturing, management, sales and retail, waste management and industrial cleaning skills already crop up across the clothing value chain. As we progress towards a more circular system, the need for these skills will only become more prevalent—as will new jobs in technology, e-commerce and textile sorting, to better support repair and cycling. And what's more, progressing to a fully circular sector that fulfills both environmental and social standards will need aspects of all three scenarios to be developed in combination, bringing additional skills to the fore.
The research leads collaborated with Amsterdam-based social enterprise Makers Unite to further explore skills gaps for their current and future business models. The organisation, which works with skilled newcomers to the Netherlands with a refugee background to create sustainable, upcycled products, hopes to convert to a fully circular business model. It notes the growing relevance of data scientists and analysts, sustainability and innovation managers, logistics and customer communications workers and the redevelopment of design, product development and tailoring roles.
'I believe a transition towards a circular economy model starts by understanding how to make the best use of our existing resources: material and human. The innovation needed for the skillforce will create new opportunities for social inclusion to be fostered—and this is why we have focused our efforts on new business models.' – Thami Schweichler, Managing Director at Makers Unite
The benefits of realising such a scenario are plentiful—but how can we get there? This will require committed coordination between relevant actors, from the Dutch government and private sector stakeholders to academia and education institutions—as well as action that ensures no worker is left behind or subject to unethical working conditions. Training and retraining must take a holistic approach and be directed at unemployed workers and those at risk of being phased out in addition to the employed workforce—and the role of vocational education and training must be recognised as essential to advancing the circular economy and building back better from the covid-19 pandemic.