How Recycleye and the MTC are advancing the recycling revolution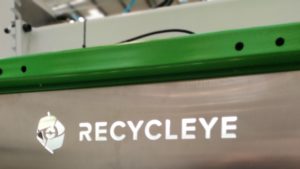 The link-up between London-based Recycleye and the MTC to develop an easy retrofittable robotic waste picker, which scaled from research and development to industrialisation within a year, combines Recycleye's vision system with artificial intelligence and robotics to sort waste efficiently.
Manual waste sorting is no longer equipped to handle the two trillion tonnes of waste produced globally each year. The repetitive nature of waste sorting has exposed pickers to long-term health conditions, leading to a high labour turnover. Health hazards have been further exacerbated by Covid-19, as the spread of the virus has threatened entire plant closures. Furthermore, Brexit is expected to place a significant strain on the ability to find and recruit pickers, leaving recycling facilities unable to keep up with the demands of waste sorting.
Recycleye's intelligent picking system is powered by Recycleye Vision – a world leading AI computer vision system which detects all items on waste streams by material, item and even brand. As a modular, automated sorting solution, Recycleye Robotics successfully adapts to changing waste composition without any need for retrofit.
Matthew Arnold, software engineer at Recycleye said "Working with the MTC has been pivotal in helping Recycleye move closer to achieving its mission to accelerate the world's transition towards a circular economy. The low cost of Recycleye's picker is de-risking the automation process for the waste management industry, enabling more materials to be recycled."

"The deployment of Recycleye's robotic waste picker successfully mitigates the risks and costs associated with manual sorting. In particular admin costs such as hiring, and training are eliminated. While manual pickers work in shifts, Recycleye's robotic picker can work continuously without any need for breaks, increasing total throughput of material recovery facilities by up to 110 percent. Recycling facilities which join Recycleye's Early Adopters Programme, a partnership providing early access to Recycleye's technologies, can expect a 300 percent return on investment compared to manual sorters. Such yields are providing waste facilities with the additional capacity to increase sorting capabilities, thereby reducing the volume of waste being sent to landfill."
James Owens, research engineer at the MTC said "With years of experience in machine vision and industrial robotics in manufacturing, we are excited to be applying our skills to bring a new solution to the other end of the product lifecycle. We have been able to engage with one of our industrial members, a world-leading robotics company, to develop a robust and affordable system with Recycleye."
Mike Wilson, chief automation officer at the MTC said "Successful automation used to require a very structured approach with consistent parts and controlled presentation. The application of robots to recycling demonstrates the ability to handle much more varied parts and conditions and undertake mundane, unpleasant tasks which really should be automated."
The Recycle robotic picker will be installed at waste plants this year. The combination of Recycleye's deep technologies and the MTC's renowned experience in delivering innovative manufacturing solutions is accelerating the waste management industry's transition to the fourth industrial revolution.