Recycleye raises £3.5M seed funding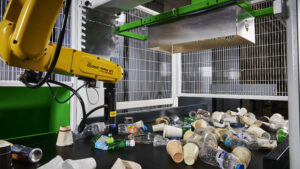 The company's seed round takes its total funding to-date to £4.7M since it was founded in 2019 by CEO Victor Dewulf and CTO Peter Hedley.
 
Already relied upon by waste management leaders Biffa and ReGen in the UK, and three of the five largest waste management companies in Europe, Recycleye will use the funding to scale and enhance the accuracy, scope, and capabilities of its world-leading machine learning and robotics technology. In addition, it will continue to bolster its team, expand into new European markets, and further consolidate within existing territories (including the UK, France, and Italy), and expand its product line beyond vision systems.  
  
Using advanced machine learning to train the world's most powerful recycling robots, Recycleye prevents valuable recyclates from being downcycled, a result of inefficient and ineffective manual labour, with human workers facing dangerous, dull and dirty working conditions, and unreliable machinery. 
The company empowers recycling facilities to increase the purity and subsequent value of their output, increasing the resale value of bales fivefold. By lowering operational expenditure, Recycleye can save facilities up to £2M each year. The company counts Microsoft, NVIDIA, Imperial College London, and FANUC as key technological and strategic partners. 
 
"Waste is not recycled when the cost of recycling exceeds the value of the sorted material. By lowering the cost of recycling with artificial intelligence and robotics, we're breaking this threshold and building a world where our removal chains are fully integrated back into our supply chains", comments CEO Victor Dewulf, who left investment banking at Goldman Sachs to study for a PhD in Machine Vision so he could gain the skills to tackle the recycling problem, and tested the company's AI by throwing waste items on a treadmill. 
 
"It's startling to see just how inefficient and reliant on archaic, manual processes the waste management industry is. To ensure our team understands the pain of human picking, and the need to replace it with technology, we take them on retreats to trash dumps across Europe. We are delighted to be backed by Promus Ventures, a VC firm with a track record of backing and scaling deep tech companies with world-changing ideas like ours."