Cihangir Türkkani
The waste recycling services market in Europe was valued at US$ 134.6 Bn in 2019 and is anticipated to expand at a CAGR of ~6% during the forecast period. Based on waste recycling type, the construction & demolition segment dominated the waste recycling services market in Europe in 2019. Construction & demolition waste is one of the heaviest and most voluminous waste streams generated in the region. Based on end user, the industrial segment constituted leading share of the waste recycling services market in Europe in 2019. Industrial waste consists of waste from various industrial sectors such as manufacturing, mining & quarrying, construction, and energy. These account for major share of the overall waste generation. Recycling potential is high in case of industrial waste; hence, the segment is anticipated to be a highly lucrative segment of the waste recycling services market in Europe during the forecast period.
The waste recycling services market in Germany is projected to expand at a substantial pace during the forecast period, owing to enactment of stringent government regulations and ban on landfill of waste. The potential for waste recycling services market in the country is high owing to rising investments and growth in circular economy.
Key Drivers of Europe Waste Recycling Services Market
The rapid increase in waste generation is likely to drive the waste recycling services market in Europe during the forecast period. On an average, an individual in Europe discards around half a ton of household rubbish every year. Large amount of waste is generated from activities such as manufacturing, construction, energy production, etc. This boosts the demand for waste recycling services. Waste has a major impact on the environment, causing pollution and greenhouse gas emissions that contribute to climate change, as well as significant losses of materials. This creates issues for the region, as it is highly dependent on import of raw materials.
The amount of waste generation has been increasing in Europe due to the significant rise in usage of hi-tech products. This results in waste generation of complex mix of materials, including plastics, precious metals, and hazardous materials. This is expected to propel the waste recycling services market in Europe in the near future.
Rapid increase in waste generation is also estimated to boost the demand for waste recycling services in Europe. Furthermore, the region has imposed landfill bans on plastic waste in order to recover and recycle plastic wastes. Around 10 countries in the European Union banned the dumping of plastic waste in landfills in 2016. These countries recorded significant rise in the plastic recovery rate post the ban. Currently, using waste as a resource is key to becoming more resource efficient. The used plastic could be recycled into new products or chemical raw materials.
The zero plastic to landfill policy aims is to recover 100% of plastic waste. The quantity of plastic waste sent to landfills decreased by 44% between 2006 and 2018. Thus, ban on landfill of waste is estimated to drive the demand for waste recycling services in Europe during the forecast period.
Germany Offers Lucrative Opportunities to Waste Recycling Services Market
Germany is anticipated to be a highly attractive region of the waste recycling services market in Europe during the forecast period. The waste recycling services market in Germany is projected to expand at a significant pace between 2020 and 2030, as the country has well established waste management facilities. The Green Dot system has been one of the most successful recycling initiatives, which has helped reduce packaging waste on a large scale.
Major Developments in Europe Waste Recycling Services Market
In January 2018, Kuusakoski Recycling, a leading recycling services company in Northern Europe, announced that it had developed a method of recycling magnetic imaging devices that can be used to separate electrolytic copper and niobium-titanium conductors, which are thinner than human hairs. The company also announced its innovation would be particularly useful for the recycling market, as the use of magnetic imaging in healthcare has been rising, and hospitals have been increasingly replacing their old devices with newer, more powerful imaging devices.
Competition Landscape of Europe Waste Recycling Services Market
The waste recycling services market in Europe is highly fragmented. A few international and local players hold major share of the waste recycling services market in Europe. Key players operating in the waste recycling services market in Europe are Sims Metal Management, Waste Management, Suez, Veolia, Sims Lifecycle Services, Ragn-Sells Group, Remondis, Kuusakoski, Fortum, Marius Pedersen, Norsk Gjenvinning Norge, Scholz Recycling, Paprec Group, Biffa, TRADEBE, H.J. Hansen Recycling Industry, Recycling Lives, Eurokey Recycling Group, and Waste Recycling.
The Lindner machine factory opened its doors in the 1940s, the company manufactured sawmill equipment. The big transformation happened in the late 80s and the company was one of the first started to delve into shredding and waste processing – Lindner Recyclingtech was born. Today, 72 years later, recycling and the sustainable use of resources are among the pressing issues of our time and the Spittal-based family business is one of the world's leading companies when it comes to turning waste into a valuable resource.
'At the moment, the industry is undergoing a major change. Recycling rates and quality requirements for end materials are constantly rising and so we are continuing to develop new systems. Systems that enable our clients to meet these requirements,' explains CEO and owner Manuel Lindner during the groundbreaking ceremony at the future Spittal-Ost headquarters. 'To ensure that we can continue to do this efficiently, we are doubling our capacity and relying on the latest production technologies that meet industry 4.0 standards.'
Besides a robot-assisted manufacturing facility and a modern logistics centre, an academy focusing on recycling technology will be built on the 45,000 square metre site. As Michael Lackner, Managing Director at Lindner, states: 'We were one of the industry's pioneers and accumulated an enormous amount of application expertise. Today, we see ourselves not only as a machine manufacturer and technology partner, but also as a source of knowledge for our clients. That's why it is so important to us to constantly expand this know-how, develop new solutions and systematically prepare and pass on the knowledge gained. We are looking forward to welcoming you soon to the new home of recycling.'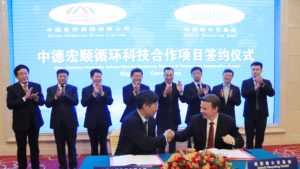 Scholz is using its recycling know-how to design a plant and to process more than 200,000 tons of aluminum scrap and 50,000 end-of-life vehicles per year. The recycling park will provide Hongqiao's demand on input material for further growth and, at the same time, supports sustainability and improves environmental protection. One ton of recycled aluminum saves around 83 percent of carbon dioxide emissions and up to 94 percent of energy compared to the production from raw materials.
The signing of the joint venture agreement is an important step for both companies, Hongqiao and Scholz. "Hongqiao and Scholz are now joining hands to build the Sino-German Hongqiao Scholz Circular Economy Science & Technology Cooperation Project and to set up a benchmark in the field of recycling and renewables. We collaborate, not only because we have matching strengths and technologies, but we coincide in our ideologies to pursue green and sustainable development as well. Rooted in the manufacturing industry, we are to recycle industrial waste, to take advantage of our strengths and values in the circular economy, and to contribute more to our society's green and sustainable development", Zhang Bo, Chairman and Chief Executive Officer of Hongqiao, highlights in his remarks.
Rafael Suchan, Chief Executive Officer of the Scholz Recycling Group, also emphasizes that "We appreciate very much that we take our first steps in China together with such an important partner like Hongqiao. The opportunities provided by China's green growth development plan based on a circular economy and the country's aim to become carbon neutral by 2060 are of great benefit for the environment – and hence, also for our company Scholz. Having a highly innovative partner like China Hongqiao enables us to accelerate the ambitious goals to facilitate a well-functioning recycling market in China."
Scholz Chief Operating Officer Marc Breidenbach says, that his team "now has the key role to bring in our comprehensive processing know-how at the upcoming layout and construction phase. We have an experienced international project team consisting of engineers from Europe and China supported by additional experts from Scholz's Recycling Innovation & Technology Center in Germany who are ensuring a state-of-the-art two-shredder processing line."
The core components are on the one hand an end-of-life vehicle shredder and, on the other hand, an aluminum shredder. Both lines will be combined further downstream with the latest separation process technologies to feed the joint venture's remelting plant converting scrap into high-quality billets for Hongqiao's aluminum production. The next steps will also include the setup and expansion of a local trading team in China to ensure that recycled high-quality aluminum is available in sufficient quantities.
The aerospace industry is increasing its use of composite materials because of the advantages they offer in terms of weight reduction and strength. One of the drawbacks of these composite materials is the complexity of recycling them.
In response to this challenge, Aimplas is coordinating the Sparta project, with the participation of Tekniker. Both centres will develop a new recycling method for key waste processing and reprocessing procedures. Specifically, Tekniker will contribute its knowledge and experience in mechanical cutting to the development and optimization of an innovative mechanical scrapping process, through simulation and experimentation, while Aimplas focuses on improving material reprocessing through automatic deposition and compression moulding. This method will make it possible to use up to 80% of current aerospace waste compared to other mechanical recycling methods, cut processing times as much as 50% by reducing the number of steps in waste recovery, use more efficient automatic reprocessing methods, reduce CO2 emissions up to 30% through the use of waste, and curb production demand for virgin material.
The result will be new, high-quality composite thermoplastic products manufactured with recycled materials at a production cost 15 to 20% lower than current mechanical recycling and scrap reprocessing procedures due to a reduction in the number of operations and automation of manufacturing processes. Aimplas will also be in charge of analysing the properties of the final product, as well as preparing a guide with eco-design recommendations for industrial scale-up of the process.
The project began this month and will end in October 2022. It has received funding from the EU Research and Innovation programme Horizon 2020 within the framework of the Clean Sky Joint Technology Initiative under grant agreement number 887073. This project is in line with SDG 12 on responsible consumption and production, SDG 13 on climate action, and SDG 9 on industry, innovation and infrastructure.
The 9th European Conference on Sustainable Cities & Towns – "Mannheim 2020", taking place online from 30th September – 2nd October, will address the socio-economic and socio-cultural challenges associated with accelerating the transformation to sustainability and climate neutrality. Co-hosted by the city of Mannheim, Germany, the 2020 conference will take a decentralised and bottom-up perspective that begins by identifying cities and regions as key actors towards urban transformation processes. The conference will also call for increased ambition of European and global frameworks for sustainability and climate change, with a particular focus this year on the European Green Deal.
The three-day conference will provide a platform for local leaders to share their knowledge and interact with other stakeholders working on creating a better urban future in Europe. The interactive online platform allows for more connection and networking opportunities than ever.
How can Europe achieve an inclusive and just sustainability transition through the new European Green Deal? During the three-day conference, participants will learn about where Europe stands in the fight against climate change. They will hear from pioneering sustainable cities, and explore alternative economic models and discuss digitalisations ever-increasing role. The practical and actionable focus of the conference will result in the Mannheim Message, outlining next steps for European cities and towns on implementing the European Green Deal.
Plenary and Policy Panel sessions will explore topics from a broader level with engaging discussion among experts. Confirmed speakers include Prof. Dr. Dirk Messner, President of the German Environmental Agency; Lilyana Pavlova, Vice President of the European Investment Bank, and Anne Katrin Bohle, State Secretary of the Federal Ministry for the Interior, Building and Community (Germany). Some of the topics of these sessions include climate justice and resilience, the role of digitalisation for a sustainable future, the tension between economic systems, and the role of Climate Pacts as a tool in the sustainable transition process.
Conference attendees will have an opportunity for more hands-on learning through Solution and Toolbox sessions, where they will gain concrete tools to help face sustainability challenges in their cities. Among other topics, attendees can expect to learn about clean urban mobility; the development of policy for sustainable energy transition; socially responsible public procurement, and how to tackle plastic, construction and bio-waste from a circular perspective.
Inspiring contributions to the conference will come from speakers like Bernice Notenboom, Polar explorer, climate journalist and filmmaker, and Lamia Kamal-Chaoui, Director of the OECD Centre for Entrepreneurship, SMEs, Regions and Cities. City leaders like Peter Kurz, Mayor of Mannheim; Erion Veliaj, Mayor of Tirana; Thomas Kastrup-Larsen, Mayor of Aalborg, and Martin Horn, Mayor of Freiburg, will provide a localised perspective, by speaking about the sustainability transformations taking place in their cities.
The 9th European Conference on Sustainable Cities & Towns will build on the legacy of the previous conferences in Aalborg (Denmark, 1994 and 2004), Lisbon (Portugal, 1996), Hannover (Germany, 2000), Seville (Spain, 2007), Dunkerque (France, 2010), Geneva (Switzerland, 2013) and the Basque Country (Spain, 2016). Over 1,500 representatives from local and regional governments, European and international institutions, multilateral organisations, members of the research community, private sector and civil society are expected to take part in the event.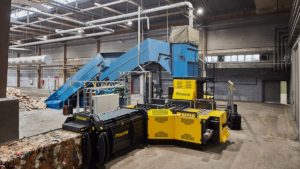 A single MP 270 MH baler can replace several smaller balers at a lower cost, says Presona. "In practice, we have put a turbocharger on a baler. I think we are the first in the world to do that," says CEO Stefan Ekström. The new baler, which has the nickname "Mega", is intended for recycling and sorting plants or other businesses that bale large quantities of material.
The basis to MP 270 MH's high performance is parallel processes and self-optimization: When the material that is to be compacted falls into the baler, its density is automatically measured and then the baler optimizes itself and proceeds to pre-compress the material to 200 kg / m3. The pre-compressed material is then moved to the main press which creates finished bales while new material is being pre-compressed.
"Being able to pre-compress and make finished bales at the same time means that the capacity will be much higher compared to other types of balers on the market. The pre-compression can be compared to a turbocharger – by increasing the density of the added material we get much higher output, ie more bales per hour. This means that the cost per bale will be lower," says Stefan Ekström.
The Polymers for Europe Alliance congratulates Repsol for winning the overarching award on circularity covering all polymer types.
In the remaining polymer categories, the following companies were awarded:
ABS: Elix
EVA: Eni
HDPE: Repsol
PCV: Vynova
LDPE: Repsol
LLDPE: Dow
PET: Indorama
PP: Repsol
PS, EPS: Ineos
Circularity: Repsol
During the past months, users of polymers across Europe participated in an online survey to rate their supplier's performance from June 2019 up to May 2020. The evaluation considered the categories Polymer Quality, Circularity, Delivery Reliability, Communication and Innovation for a total of 9 different materials. For the second time, the Alliance published as well a more detailed ranking, including the scores of all polymer suppliers that we rated by the members of the Alliance. The complete ranking is available here (PDF file).
The opening date for the next voting round of the Best Polymer Producers Awards for Europe 2021 will be announced in February 2021.
The rating tool is easy, user-friendly and provided in several languages in order to reach as many polymer users in Europe as possible. Interested parties can register for free at the Polymers for Europe Alliance to get access to the rating tool.
The PET bottles are delivered to Reiling's facilities in compressed briquettes or bales. Before the PET bottles can be processed, each bottle needs to be separated from the compressed mass so it can be washed and sorted according to color. After the shredding and washing processes, the flakes are cleaned again using a sorting system. For those who will eventually buy the flakes, color and material purity are of central importance, as high-quality starting materials are needed to manufacture new products.
Reiling Kunststoff Recycling uses state-of-the-art equipment to efficiently process their PET flakes, ensuring that buyers receive only recyclate with the highest material and color purity. The Flake Purifier+ systems from Sesotec play an important role in the PET sorting process at their recycling facilities. The sorting system is equipped with an array of sensors that make it possible to separate PET flakes according to color, metal contaminants, and type of plastic in one run. The newest models of the sorting system are currently in use at Reiling facilities in Marienfeld and at the new location in Burgbernheim.
High quality with low loss of good material
On top of optimal sorting capabilities, Flake Purifier+ can be efficiently integrated into the overall system, offering precise fits for connections at material feeding and outlet points. Feed hoppers transfer the PET flakes to the main conveyor of the sorting system for sorting. Material that is rejected from the main conveyor is automatically fed back into the system via a recovery lane. The big advantage: the majority of good material will be recovered, and only minimal good material will be lost during sorting.
Andreas Schragen, Managing Director of Reiling Kunststoff Recycling, is convinced of the value provided by Sesotec's all-round service: "Our facilities have benefited from Sesotec's reliability and competence for many years. The new Flake Purifier+ series makes it possible to achieve a closed material cycle. We can even guarantee flakes that are pure enough for use in food contact applications."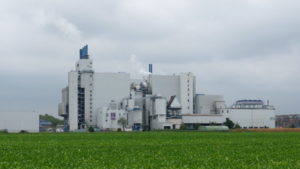 The Waste-to-Energy (WtE) sector embodies a reliable anchor during the crisis, says CEWEP. It provides positive impetus for investments and employment while ensuring reliable waste treatment services in turbulent times, despite travel restrictions and contact constraints which complicated and delayed several actions.
As demonstrated during the Covid-19 crisis, thermal treatment represents an indispensable and solid pillar in waste management.
The WtE industry barometer is available as a free download on the CEWEP website.
Due to the ongoing difficulties presented by the Covid-19 pandemic, many of this month's figures are estimates that may be revised with next month's production update.
China produced 94.8 Mt of crude steel in August 2020, an increase of 8.4% compared to August 2019. India produced 8.5 Mt of crude steel in August 2020, down 4.4% on August 2019. Japan produced 6.4 Mt of crude steel in August 2020, down 20.6% on August 2019. South Korea's steel production for August 2020 was 5.8 Mt, down by 1.8% on August 2020.
Germany produced 2.8 Mt of crude steel in August 2020, down 13.4% on August 2019. Italy produced 0.9 Mt of crude steel in August 2020, up 9.7% on August 2019. France produced 0.7 Mt of crude steel in August 2020, down 31.2% on August 2019. Spain's steel production for August 2020 was 0.7 Mt, down by 32.5% on August 2020.
The United States produced 5.6 Mt of crude steel in August 2020, a decrease of 24.4% compared to August 2019.
Production in the C.I.S. is estimated to be 7.9 Mt in August 2020, down 6.2% on August 2019. Ukraine produced 1.8 Mt of crude steel in August 2020, down 5.7% on August 2019.
Brazil produced 2.7 Mt of crude steel in August 2020, up by 6.5% on August 2019.
Turkey's crude steel production for August 2020 was 3.2 Mt, up by 22.9% on August 2019.